Currently viewing the tag: "LCD"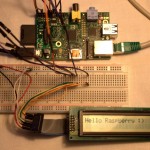 Do you remember the LCD display? I've connected it successfully to an Arduino lately, so when I got my Raspberry Pi some days ago it was just a matter of time to try connecting the two:
I followed the nice instructions […]
Continue Reading

→
I've been very busy over the last weeks, but now I've taken some time to get deeper into the "core electronics part", which simply means that I got a breadboard and some electronic components like resistors, transistors, LEDs and a lot of wires.
The first step was to get a normal LED on the breadboard […]
Continue Reading

→
Guess what I found at my desk when I came to the office today?
Saying thank you to my coworker Oliver for long-time renting me this 2×24 LCD with a HD44780 controller. I'm afraid that it'll take some weeks to get it up and running, because currently I don't have any breadboards, cables […]
Continue Reading

→